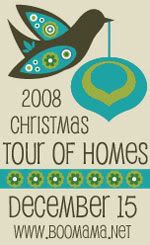 You know you are in Texas when the welcome is warm, the jokes get corny and we display a rare CandyCane Longhorn - legend is they are bred at Santa's place somewhere near Abilene. Cowboys like the green Christmas tree brand but can't figure out how to tattoo an ornery steer.
Come on in - the gates are opening for your visit to Buhlaland at Christmas.


If you want mistletoe to take home maybe someone brought along a kiddo who can shinney up an oak and cut a chunk - we've got more than enough for kissing mania.
We don't do a lot of outside decoration - the front door spray and a few lights around the porch railings --our neighbors across the pasture are the only ones who can see the lights (except for Santa of course)
.
Just inside the front door is our hall tree . The poinsettia is in a barbed wire basket given to us by my brother and sister in law several years ago .The cowboy Santa has a snowman sidekick - with our changeable weather in Texas a snowman doesn't have a long life expectancy!-
Our Christmas tree is decorated without any theme other than if it is something we have been given or like - it belongs on our tree.
Among the treasures are a small string of sleigh bells from MIL. She gave us the bells and attached a note saying they were from the Kiehler farm(where she grew up in Michigan). MIL also made the little colorful cross . The sand dollar was a gift from the family of a lo
vely woman who stayed in our Colorado bed and breakfast one year. A mission group in Haiti sent us the shiny angel. We have the infamous dill pickle ornament, MIL was certain it was some kind of German traditional ornament, but nobody we met in Germany had heard of it! The crafted snowflake ornament originated with my Aunt Dorothy, then MIL went wild and made a dozen or more for us. A little bling on the tree makes it sparkle more.
The nativity set was made by New Mexico native American artisans, we like it because it isn't the traditional European Renaissance styling.
Our holiday food treat is Coconut Scones - the recipe was originally published in Sunset Magazine but I've modified it a bit over the years.
Preheat oven to 375 degrees. Prepare a baking sheet with a large square of parchment buttered generously or sprayed with Pam. In a large bowl combine 1 3/4 cups all purpose flour, 1/2 cup sweetened flaked coconut, 1/2 cup dry oatmeal (not cooked!), 3 tablespoons granulated sugar, 2 teaspoons baking powder, 1/2 teaspoon salt. Add 1/3 cup cold butter, cut into chunks. With your fingers or a pastry blender, rub or cut in butter until mixture forms coarse crumbs.In a small bowl, beat 2 large eggs, 1/2 cup cold milk and 1/8 teaspoon Almond extract. Stir the liquids into flour mixture just until evenly moistened - don't get too energetic or you'll make the scones tough. Scrape dough onto a floured cutting board and pat into an 8 inch round (please measure this - it makes a big difference in the results if you make them too thin). Carefully slide the round onto your greased parchment on a baking sheet. Cut into 8 wedges,don't separate the wedges to bake leaving them in place. Brush the top of round with a mixture of one egg and two tablespoons milk. Sprinkle the tops with sugar ( I used decorator sugars\ sprinkles to get a glistening effect on the tops). Make a 1 inch diameter depression on top of the wide end of each wedge and fill with a generous teaspoon of pineapple(or your favorite flavor) preserves. Bake for 18-20 minutes until golden brown. Remove from oven, re cut and separate wedges. Serve warm.
If you like a brunch treat with more of a sweet roll taste, pour a glaze of powdered sugar and milk over the wedges.
That's it! For the tour of homes visitors from BooMama I've worked at keeping it short knowing there are many many blogs to visit and this time of year is busy. Remember the reason we celebrate. Be kind to one another and yourself .
So, this Christmas season I pray that the warmth of the Savior's love will spread itself over you as never before. And that whenever and however possible, you will keep reminding yourself that there are still tiny, shivering sparrows who are too terrified to come in from the cold. Maybe, just maybe, this Christmas, because of something you do or say . . . they will. Chuck Swindoll
Merry Christmas
and a peace filled New Year

.